Will Klemm Portfolio Box
Fragments and Warmups, SOLD
The images in this group are born of two different impulses. The first was to rescue successful fragments from larger paintings that, for whatever reasons, didn't entirely satisfy me. The paintings "Colorado Hillside," and "Companions," both jumped ship from a larger painting that I never could make peace with. But I was delighted with the newly cropped vistas, and it made me wonder why I hadn't thought of doing so before. I was also reminded of a story I heard in an art class decades ago. My teacher's professor walked through the class on the first critique and asked the students to draw a rectangle around their favorite part of the painting. After they had done so he took an x-acto knife, cut out the selected areas, and threw them all away. His intention was to get students to work on the areas that needed attention, rather than just spend time on the fun part. At the next critique he repeated the same request, and of course this time the students picked their least favorite part, but the professor then made them enlarge it instead of throwing it away. This story points to a kind of sadism once common in higher education, but it also contained a valuable lesson. But sometimes you just can't save a painting and it's better to grab for the scissors.
Which I did with "Orange Surprise," and "Sherrie's Bowl." The latter was done in a workshop with Sherrie McGraw, an artist with whom I've studied many times.
The other four paintings belong to my daily practice of doing warm ups before starting larger, more involved works. This offers a chance to experiment with different media, different kinds of paper, etc.. So the cloud was a tryout of a new kind of canvas board that the Canson company recently introduced, and "Rumpled Sea" was an experiment in pastel over gouache and watercolor. "Bell," is a copy from either someone else's painting or someone else's photo, (I can't remember which) and as such I wouldn't usually exhibit or sell it but I liked how it paired with the window. It will remain unsigned. The window watercolor and sketch is a remembrance of a trip to the Brandywine museum in Pennsylvania. The director is a friend of mine and so I was allowed a behind the scenes tour to not only Andrew Wyeth's studio and home but also his painting locations. He often painted his neighbors, the Kuerners, and their house and barns. This deep set window was from their now deserted house.
Suite comes in a handmade clamshell box. Each piece is mounted on 16x12 inch black foam core.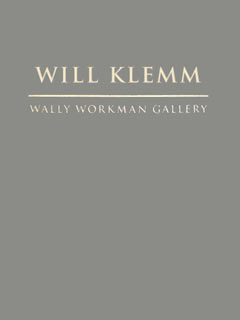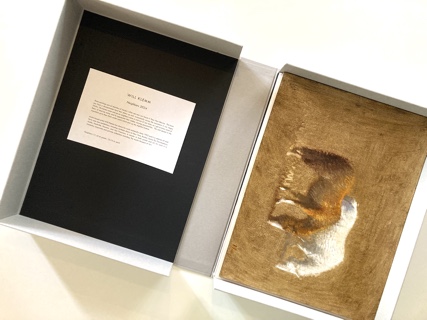 click on any image below for details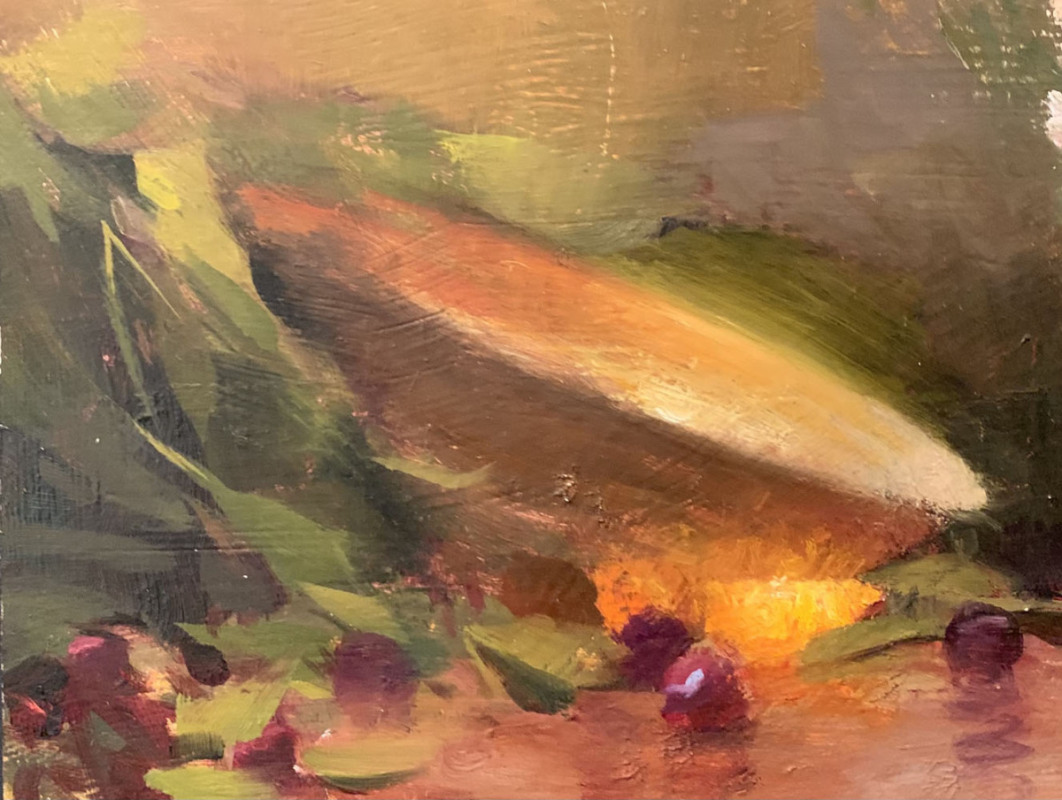 Sherrie's Bowl, 2020
oil on canvas, 6.5 x 8.5 inches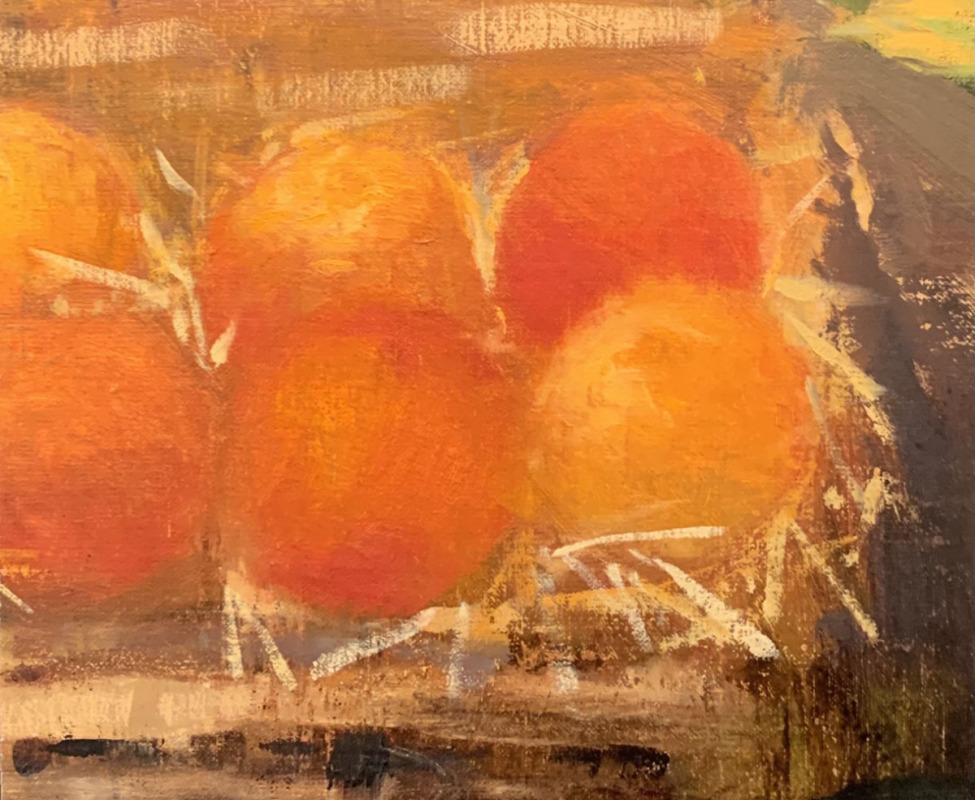 Orange Surprise, 2020
oil on canvas mounted on foamcore, 6x7 inches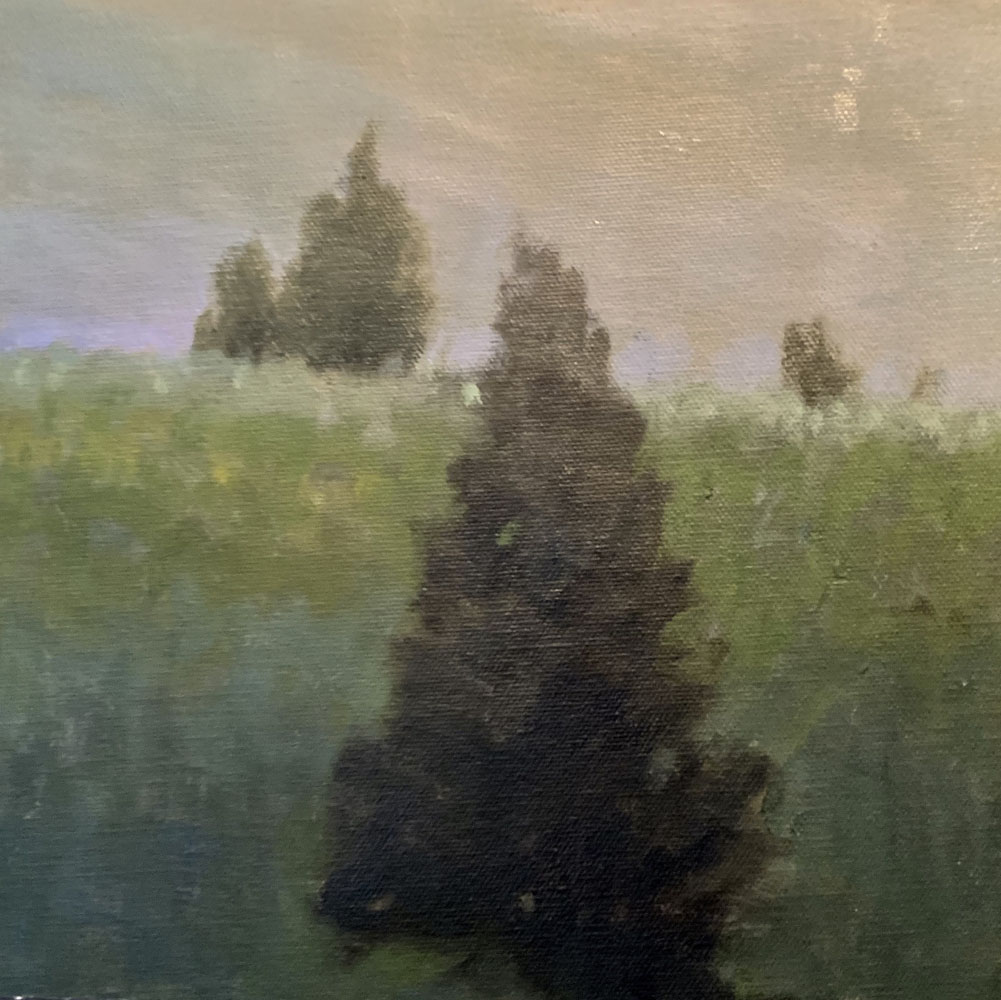 Companions, 2020
oil on canvas mounted on foamcore, 9x9 inches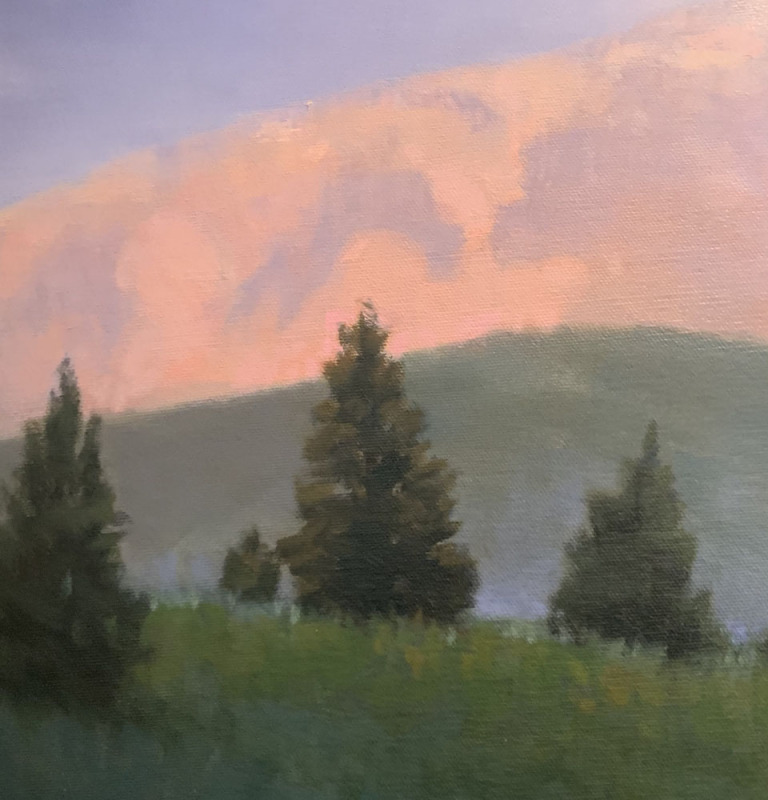 Colorado Hillside, 2020
oil on canvas mounted on foamcore, 10x9.5 inches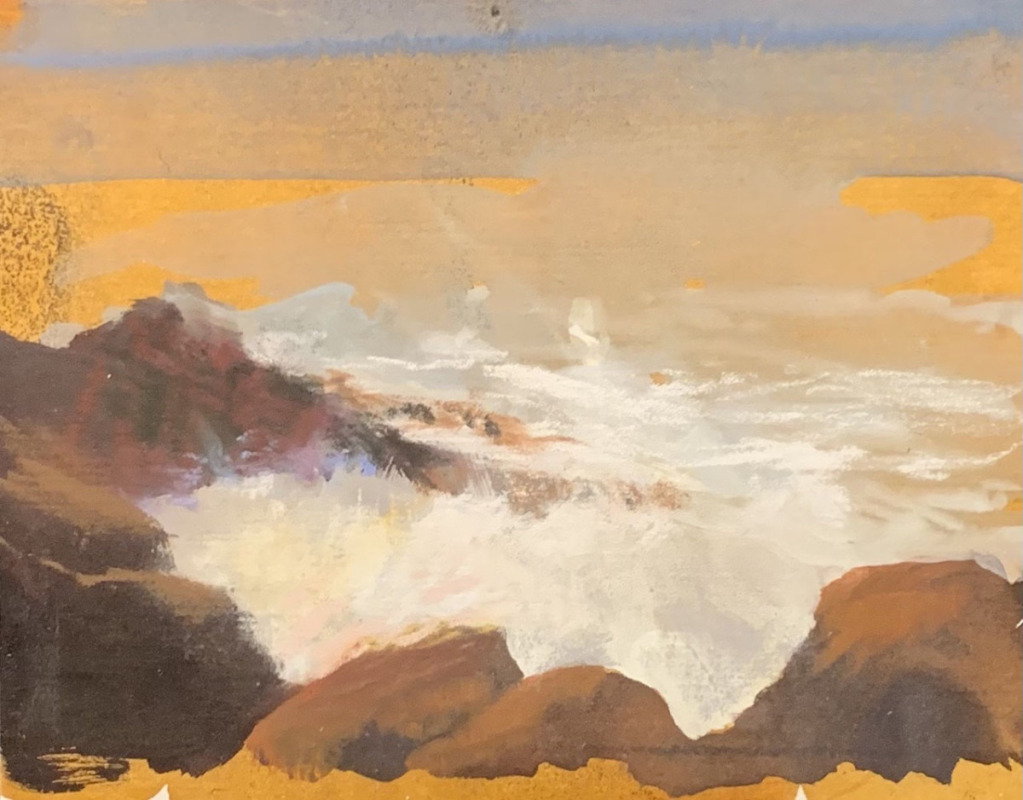 Rumpled Sea, 2020
pastel over gouache on sanded paper, 3.75 x 4.75 inches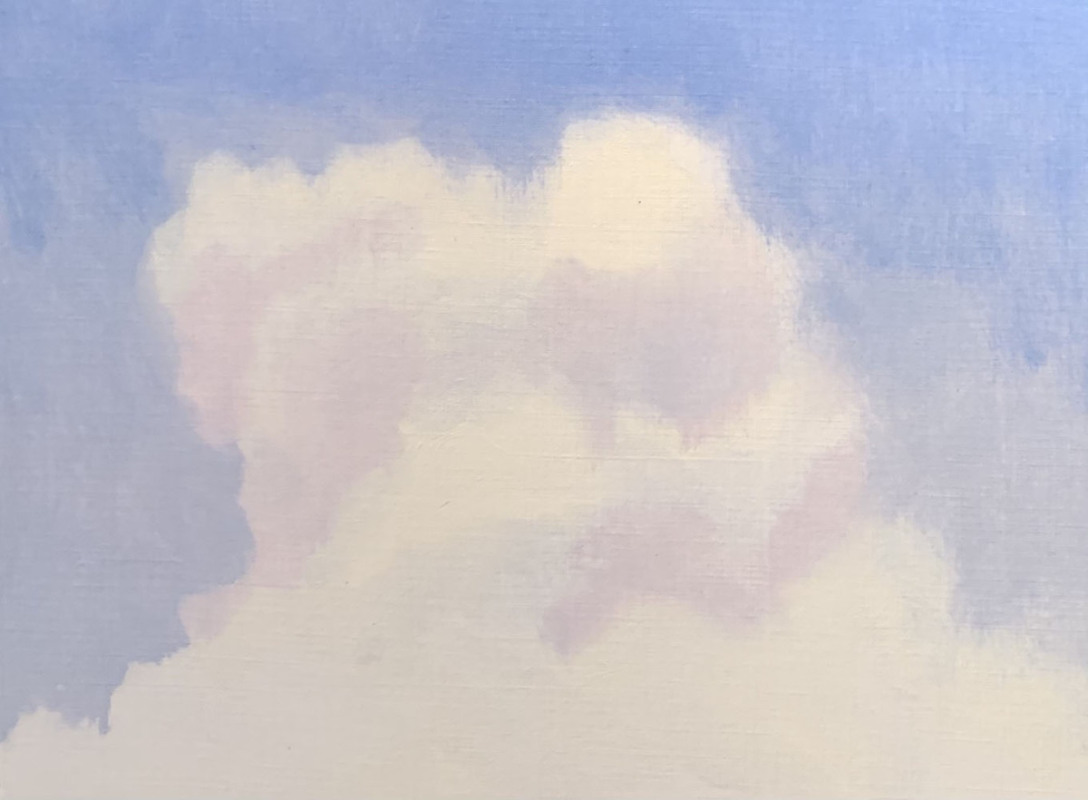 Cloud, 2020
oil on canvas mounted on foamcore, 5.5 x 7.5 inches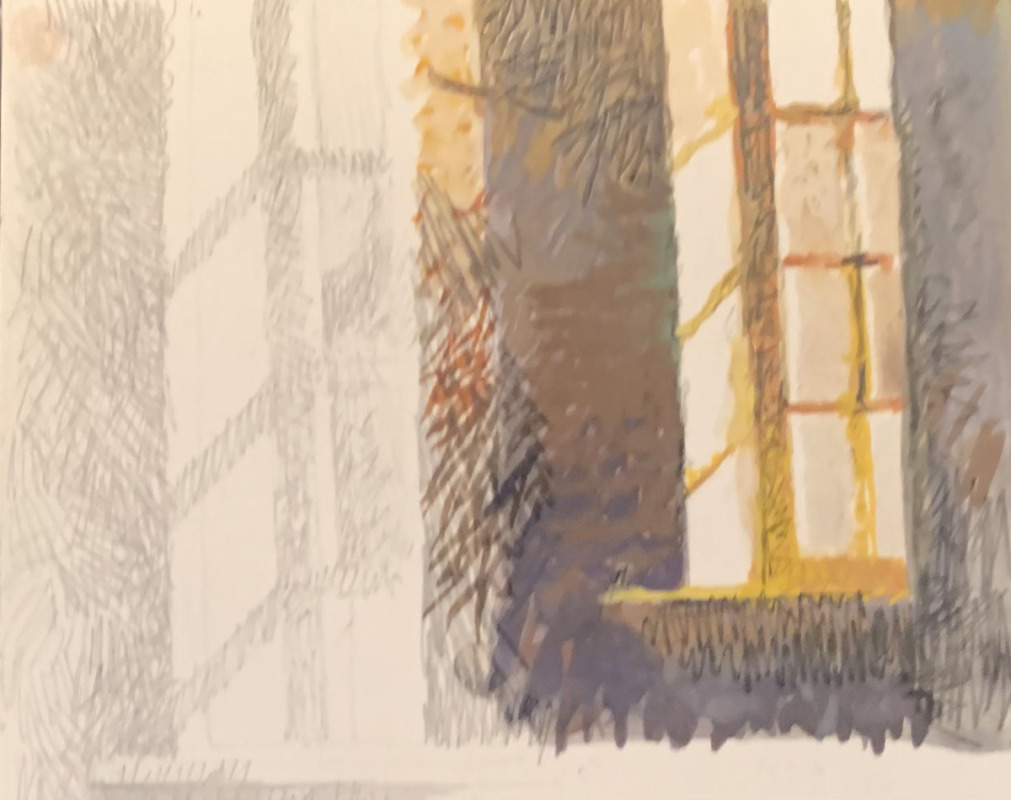 Bright Window, 2020
watercolor and pencil on paper, 3.5 x 4.25 inches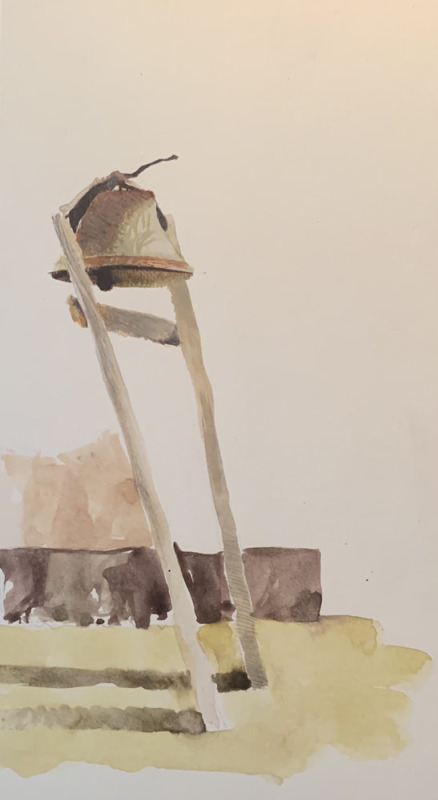 Bell, 2020
watercolor on paper, 10 x 5.5 inches