Calendar
We invite you to attend any of the upcoming gallery shows, receptions, and talks listed. Receive email notices of gallery openings by subscribing to our announcement list.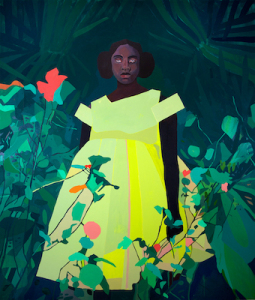 Puckett's paintings are known for their bold colors and languid figures, executed with confident interaction between paint application, shape, color and texture. The works on paper emit intimacy, with more subtle features and evidence of the artist's hand through drawn elements. The works on canvas command space, strength and attention through scale, assertive brush strokes and color choice. All of the figures in Puckett's paintings are unapologetically sure of themselves, just like the technique he employs.
Patrick Puckett was born in Jackson, Mississippi in 1979 and moved to Austin, Texas in 2005. Studying under professor James Meade at the University of Southern Mississippi, he received his Bachelor's Degree in Fine Art in 2002. Puckett's paintings are visual inventions culled from a life lived in the South. When he's not painting, he works as a graphic designer, drinks beer, and listens to Elvis. In 2022, Puckett and his family moved back to Jackson, MS where he maintains a studio.
preview show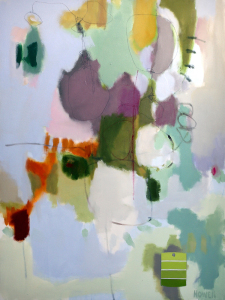 Howell's palette is informed by nature and its flux between calm and chaos. She describes it as an ongoing conversation. Each color and mark applied to the canvas informs the next; colors give the impression of physical weight and become instruments, much as in a musical composition. As the work progresses, the painting becomes a collaboration, a dialogue between Howell and the canvas.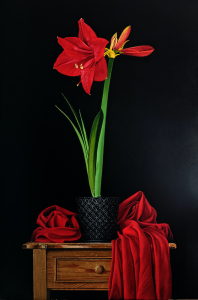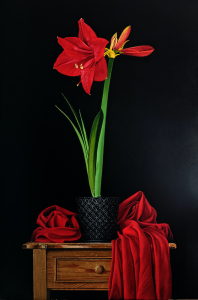 Realism: Works by Tracey Harris, James Andrew Smith, Sara Scribner and Shane Scribner
August 5-September 3, 2023
Opening reception on Saturday, August 5 from 6 to 8pm
James Andrew Smith says, "My work as a painter is to fully understand what it is I am trying to describe, and understanding comes from fully seeing." Working in oil paint and rich colors, each of these artists fully sees- be it a row of books, flowers, or the figure. Their attention to detail and precise techniques result in awe-inspiring, sometimes humorous, sometimes fanciful depictions of the world around us.