Calendar
We invite you to attend any of the upcoming gallery shows, receptions, and talks listed. Receive email notices of gallery openings by subscribing to our announcement list.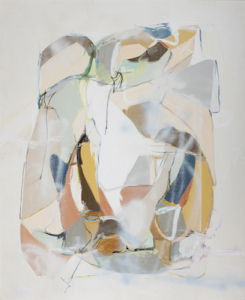 Inspired by small sculptures created from discarded painted material in the studio, Greenberg explores three-dimensional twists and turns of color on a flat plane. Her works also have a botanical inspiration. Forms from cut flowers she keeps in her studio are showcased in her paintings and the hues from these lush florals become prisms of color amidst a solemn gray. Her palette is also informed by twilight, with the recent works on paper based on paintings by Monet of dusk and dawn on the Seine. Using color, stroke and mark-making, Greenberg creates a feeling of light and hope, joy and serenity.
Greenberg works and lives in Austin, Texas.
preview show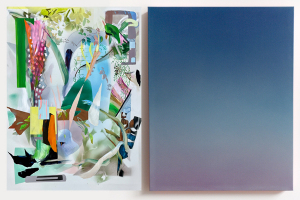 We are excited to present a two-person show with painters Lindsy Halleckson and Revi Meicler. Halleckson's ethereal colorscapes are inspired by the changes in atmosphere around the world. These works are able to create a sense of place without pointing to a specific location. They conjure up a feeling that immediately takes the viewer back to a certain place in time that is specific to that viewer's past experiences. Revi Meicler's work also aims to capture a moment of human experience, one that originates from an internal push and pull. Her paintings explore the paradox of languishing and flourishing in the same moment through layered elements, netting and botanical forms at once obscure and reveal dynamic intricacies.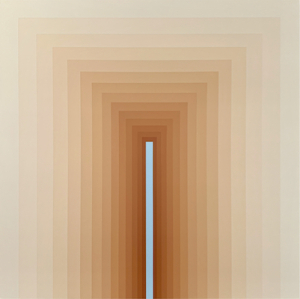 Nefelibata is a Portuguese word meaning cloud walker, derived from 'nephele' (cloud) and 'batha' (a place where you can walk). Ferguson interprets this as an invitation for reflection; reflection of what we see in others as well as ourselves. These paintings explore that idea through their unifying sky blue center and their differing outer diffusions of color. Playing with the infinite trifecta of light, color and perception, Ferguson's systematic compositions produce visual effects of surprising subtlety.
Sarah Ferguson is an admirer of the Light and Space art movement, Minimalism, Hard-edge painting and Geometric abstraction. She lives and works in Austin, Texas.