Calendar
We invite you to attend any of the upcoming gallery shows, receptions, and talks listed. Receive email notices of gallery openings by subscribing to our announcement list.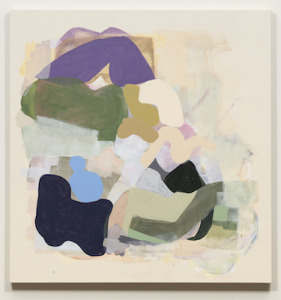 Garrido's work depicts nature-based forms and rhythms as well as color and shape studies while weighing ambiguity with representation. Her process is that of working with balance: adding and subtracting, abstracting and transforming. For this show, color became a driving force. Amidst a heavy world, Garrido discovered a need to reconnect with playfulness and youthful exuberance. Electric hues jump off her large canvases and ignite feelings of spurred growth and change, almost like the excitement of adolescence. It's a body of work that leaves you positive and energized, and right now, that feels really good.
preview show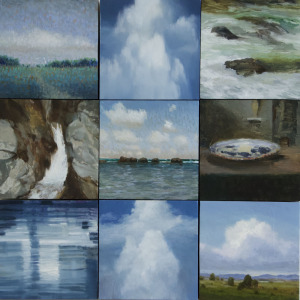 Will Klemm is well known locally as well as nationally for his ethereal and light-focused landscapes. Of his work, he says "My intention is to communicate something abstract and interior, while still referencing our everyday lives. Thus, a lone farmhouse in a field might be a metaphor for solitude, or a cloud could stand in for transience and change. But at the same time, I share with most realists a fascination with the ordinary appearance or things; their weight, texture, and tactility. These two competing impulses, the poetic and the literal, are the poles around which my work continues to orbit." This show includes grids of nine such paintings, introducing an element of storytelling new to Klemm's work. The small paintings began as individual experiments, exploring technique, subject matter and composition. As the works literally stacked up in Klemm's studio, he noticed a conversation between them and began to combine and recombine them into grids to create a visual dialogue. When he ended up with nine grids, Klemm recalled J.D. Salinger's 1953 collection of short fiction called "Nine Stories," and this is how the show got its name.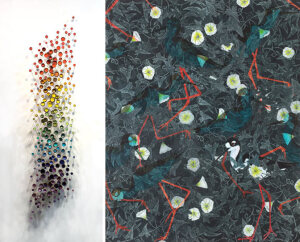 Wally Workman Gallery opens a two-person show with California based Julia Lucey and Colorado based Julie Maren. Both artists take inspiration from nature. Maren works directly with natural materials like burr acorn shells and mica to create organically shaped wall installations. Lucey creates meticulous etching collages depicting the local flora and fauna. The wildlife in Lucey's pieces look directly at the viewer, in judgement but also as a plea—as human activity is threatening their existence. This year California has seen devastating wildfires, turning the sky intense and unusual colors. These changing colors are reflected in Lucey's new work. The sky has also been a focal point for Maren, a unifying source as it is shared by all humanity. Her works in the show, like Eclipse and Stardust, focus on moving from darkness to light, reflecting the changes above us but also a wish for mankind.