Calendar
We invite you to attend any of the upcoming gallery shows, receptions, and talks listed. Receive email notices of gallery openings by subscribing to our announcement list.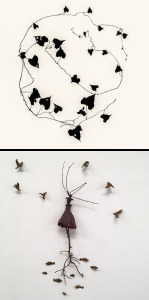 Carameros and Wilson's work incorporates the idea of the shadow both literally and figuratively. Carameros creates her botanical pieces from the shadows of found foliage that she presses and preserves. These 'shadows' echo the complexities and beauty found in creation. Wilson's sculptures also appear as silhouettes, each part of a narrative that cast their own shadows. These shadows are a metaphor for the secrets unspoken, sometimes benign and sometimes nefarious.
Take a virtual tour of the show here.
preview show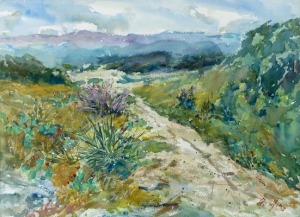 Opening reception on Saturday, October 27 from 6 to 8pm
Fowler has long been respected for his impressionist landscapes of Texas and Mexico. For this show in our upstairs galleries, he has created a selection of plein air watercolors representing the Hill Country surrounding Austin. Fowler's deft watercolor marks capture the wild beauty of the landscape as well as the dramatic shifts in our Texas weather.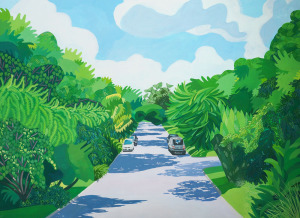 Opening reception on Saturday, November 3 from 6 to 8pm
Artist Talk Thursday, November 1st at 6pm
Born and raised in Vermont, Parker feels most at home in the outdoors. Her connection and love of the natural world inspires much of her work. Her current paintings explore the junction between civilization and wilderness and the interplay of man-made structures with their enduring natural environments. She works to communicate the variety of nature in shape, color, texture, and attitude, and to capture the energy that is not visible at first but can be found in all things, if observed carefully. This show includes gouache works depicting scenes from Texas as well as Vermont.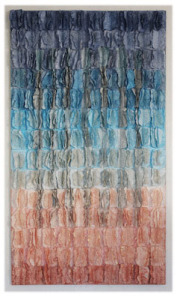 Opening reception on Saturday, December 1 from 6 to 8pm
Artist Talk Thursday, November 29th at 6pm
Robinson works with water and fiber to create handmade paper and fire and sand to make glass. These elements also inspire the shapes and compositions within her work. In this way, the work is not only about nature, it is nature. She uses yucca, flax, abaca, kozo and gampi. With the abundant loss of the organic in our modern urban environments, Robinson's work softens and warms our angled surroundings.