Calendar
We invite you to attend any of the upcoming gallery shows, receptions, and talks listed. Receive email notices of gallery openings by subscribing to our announcement list.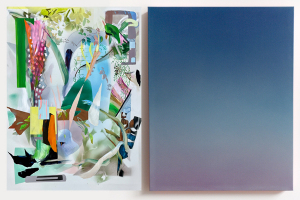 We are excited to present a two-person show with painters Lindsy Halleckson and Revi Meicler. Halleckson's ethereal colorscapes are inspired by the changes in atmosphere around the world. These works are able to create a sense of place without pointing to a specific location. They conjure up a feeling that immediately takes the viewer back to a certain place in time that is specific to that viewer's past experiences. Revi Meicler's work also aims to capture a moment of human experience, one that originates from an internal push and pull. Her paintings explore the paradox of languishing and flourishing in the same moment through layered elements, netting and botanical forms at once obscure and reveal dynamic intricacies.
preview show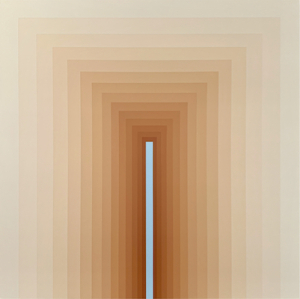 Nefelibata is a Portuguese word meaning cloud walker, derived from 'nephele' (cloud) and 'batha' (a place where you can walk). Ferguson interprets this as an invitation for reflection; reflection of what we see in others as well as ourselves. These paintings explore that idea through their unifying sky blue center and their differing outer diffusions of color. Playing with the infinite trifecta of light, color and perception, Ferguson's systematic compositions produce visual effects of surprising subtlety.
Sarah Ferguson is an admirer of the Light and Space art movement, Minimalism, Hard-edge painting and Geometric abstraction. She lives and works in Austin, Texas.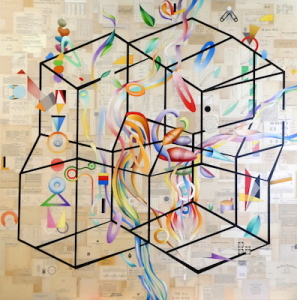 Starting in a loft studio on what was in 1975 a quiet Congress Avenue and now working in a 100 year old house on the east side, Barnett has been a part of the evolving Austin art community for over 45 years. This upcoming show exemplifies the range of Barnett's talent, featuring geometric and organic forms on large canvases as well as large scale collages incorporating found material.
Born in Stuttgart, Germany in 1946, Barnett moved to Abilene, Kansas in 1957. After finishing high school in Chicago and four years service in the Air Force, he moved to Austin, Texas and graduated from the University of Texas with a Bachelor of Fine Arts degree in 1974.