Calendar
We invite you to attend any of the upcoming gallery shows, receptions, and talks listed. Receive email notices of gallery openings by subscribing to our announcement list.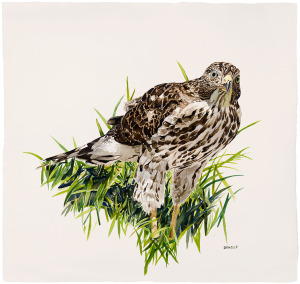 Take a virtual tour of the show here.
Read the article in UT's Biodiversity blog about Carol's Tower Girl: Peregrine Falcon here.
Dawson aims to transform the perception of commonplace natural scenes into one of new wonder. She demonstrates how a small piece of our everyday world is filled with detail and life, turning the micro into macro. In this body of work, Dawson employs birds as well as botanicals as her subjects. She depicts the birds on a human-like scale. The effect not only captures their immediate beauty but lends each an inescapable presence. As iconic as birds have been throughout human cultural development--occupying an archetypal place in our psyches—they are often seen as small, distant creatures, forever flitting beyond reach. However, in Dawson's work, they confront the viewer eye-to-eye, ensuring a new consideration. Dawson hopes that the viewer will perhaps feel as if he or she is facing an equal--a bird meeting another bird on its own ground--and remember that the conservation of this dwindling population is of primary importance to us.
After studying English Literature and Anthropology at The University of Texas in Austin, Dawson went on to launch her writing career, live abroad in Europe and New Zealand, and formally train under the tutelage of painters Ray Vinella and John Koenig in Taos, New Mexico. She is the author of four critically acclaimed novels and two non-fiction books. In addition, she has published numerous articles in national magazines, while simultaneously exhibiting her watercolors in galleries and shows in New Mexico, Washington, and Texas. She has also served as the official Writer-in-Residence and Visiting Professor of Literature and Creative Writing at The College of Santa Fe, and continues to instruct writing workshops and classes.
Dawson has been focusing on watercolor for thirty years. Her visual work is represented in public and private collections across the country.
preview show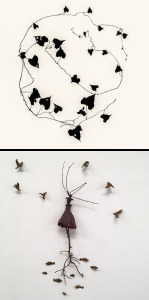 Opening reception on Saturday, October 6 from 6 to 8pm
Artist talk Thursday, October 4 at 6pm
Carameros and Wilson's work incorporates the idea of the shadow both literally and figuratively. Carameros creates her botanical pieces from the shadows of found foliage that she presses and preserves. These 'shadows' echo the complexities and beauty found in creation. Wilson's sculptures also appear as silhouettes, each part of a narrative that cast their own shadows. These shadows are a metaphor for the secrets unspoken, sometimes benign and sometimes nefarious.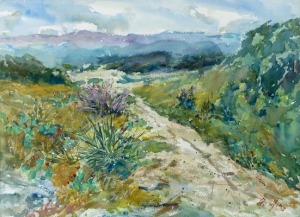 Opening reception on Saturday, October 27 from 6 to 8pm
Fowler has long been respected for his impressionist landscapes of Texas and Mexico. For this show in our upstairs galleries, he has created a selection of plein air watercolors representing the Hill Country surrounding Austin. Fowler's deft watercolor marks capture the wild beauty of the landscape as well as the dramatic shifts in our Texas weather.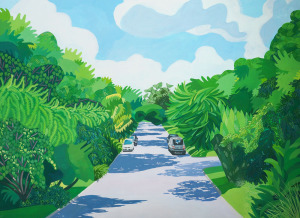 Opening reception on Saturday, November 3 from 6 to 8pm
Artist Talk Thursday, November 1st at 6pm
Born and raised in Vermont, Parker feels most at home in the outdoors. Her connection and love of the natural world inspires much of her work. Her current paintings explore the junction between civilization and wilderness and the interplay of man-made structures with their enduring natural environments. She works to communicate the variety of nature in shape, color, texture, and attitude, and to capture the energy that is not visible at first but can be found in all things, if observed carefully. This show includes gouache works depicting scenes from Texas as well as Vermont.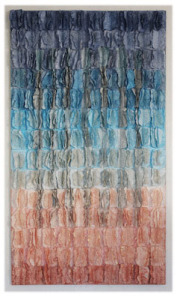 Opening reception on Saturday, December 1 from 6 to 8pm
Artist Talk Thursday, November 29th at 6pm