Calendar
We invite you to attend any of the upcoming gallery shows, receptions, and talks listed. Receive email notices of gallery openings by subscribing to our announcement list.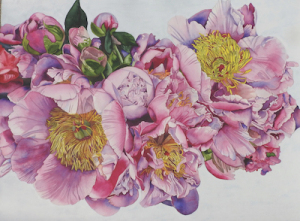 Opening reception on Saturday, October 8 from 6 to 8pm
Dawson draws inspiration from the natural world, exploring the life cycles of flowers from their buds, infancies, blooms, and deaths. Only allowing herself to use at most three pigments in her works, she is intrigued with the idea of growth through restriction. This theme is also inherent in her use of negative space surrounding the florals, giving the works a sense of abstraction and movement. Dawson describes her work as "a process of diving straight into the delicious richness of the subject…while also using the discipline I've imposed for myself for the purpose of distilling the flowers' life cycles into their purest, most vital forms: their profusion, their stillness and delicacy, their fading."
preview show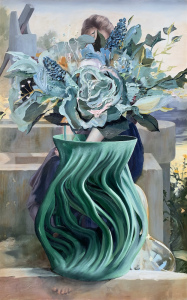 Opening reception on Saturday, November 5 from 3 to 6pm
In this series, vases and vessels are modeled from math forms that deal with infinity, chaos, and origin. These jewel-toned, semi-surreal oil paintings contain layers of figuration under grand impasto still lifes, exploring visual metaphor and its role in revealing meaning through substitution.
Ellen Heck was born and raised in Austin, Texas. She received her BA in Philosophy from Brown University in 2006 and her BFA in Printmaking and Painting from The School of the Art Institute of Chicago in 2008. She was an Elizabeth Greenshields Foundation Grant Recipient in 2010 and 2012. She is the author and illustrator of the newly released A is For Bee: An Alphabet Book in Translation. Heck currently lives and works in Winston-Salem, North Carolina.