Calendar
We invite you to attend any of the upcoming gallery shows, receptions, and talks listed. Receive email notices of gallery openings by subscribing to our announcement list.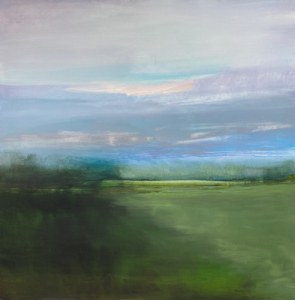 In this show, Benitez expresses thoughts of closure as well as hope. The artist considers her landscapes metaphors—representations of mood, aided and influenced by the memory of the landscape.
"Every day I observe a discreet majesty: rolling hills, big skies, long views, and jade-green rivers. I am inspired by South Texas: the expanse of the evasive sky—the smell of the mingled grasses. I love the rough field and the cow's distant bellowing…the mist rising. Here, I've found an untamed land that is still relatively unmarred by modern footprint, and my painting tries to capture that."
Widely exhibited, Sylvia Benitez is a nationally recognized artist residing in Seguin, Texas. Benitez is the recipient of many awards from numerous art granting foundations, including the Adolph and Esther Gottlieb Foundation, the Pollock-Krasner Foundation, the National Endowment for the Arts and the Puffin Foundation.
preview show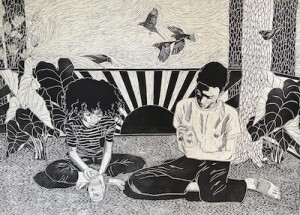 We are pleased to present a solo exhibition by printmaker Chloe Alexander in conjunction with PrintAustin 2024. Alexander's work is a form of story-telling inspired by the rich, high contrast illustrations found in illuminated texts, graphic novels and children's fairy tales. Her imagery provokes a sense of nostalgia and familiarity that is at once personal and universal.
Chloe Alexander is an Atlanta-based printmaker who works in various techniques to create multilayered, one-of-a-kind prints and drawings. Alexander obtained both her BFA and M. Ed. from Georgia State University.
PrintAustin is an artist-led nonprofit organization working to showcase traditional and contemporary approaches in printmaking. Their mission is to share the enthusiasm for printmaking by helping galleries, universities, and artists curate, exhibit, and promote works on paper and to engage a wider audience through artist talks, signings, panels, printmaking demonstrations, and print-focused art happenings. PrintAustin 2024 is a city-wide collection of these events January 15 - February 15, 2024.