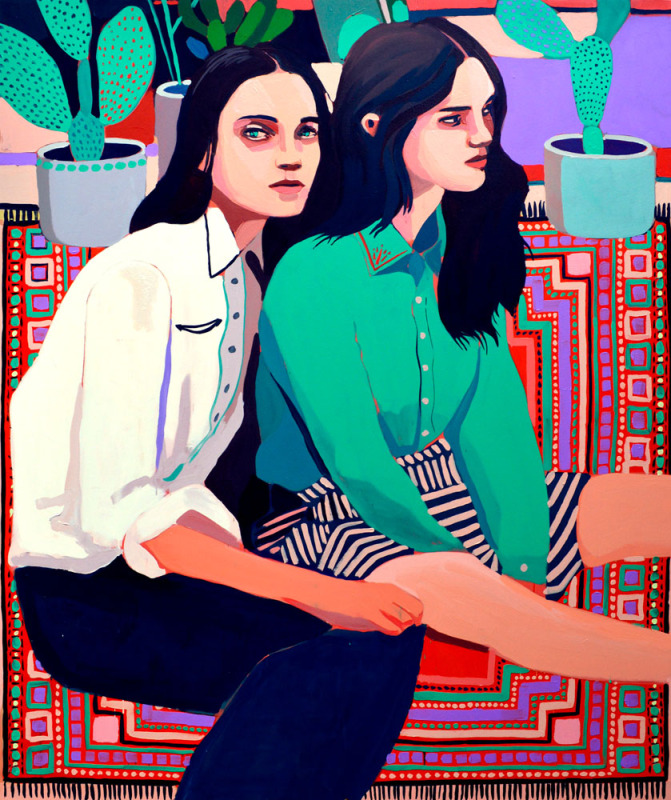 Patrick Puckett: Spring and All .
May 1-29,

2021

Puckett's paintings are known for their bold colors and strong leisurely figures, executed with confident interaction between paint application, shape, color and texture. In this new body of work, pattern becomes a focus just as important and can often be found in the foliage, the interior and the subjects' dress. This use of pattern competes for attention and adds an active element to the otherwise passive pose of the sitter- emmenating a sense of energy and almost an urgency to postures of leisure.

Born in 1979, Puckett grew up in a log cabin in central Mississippi. He received his Bachelor of Fine Arts Degree from The University of Southern Mississippi in 2002. Puckett currently lives and works in Austin, Texas.
Established in 1980 and located in a 100 year old historic house in Austin's art district, the Wally Workman Gallery specializes in emerging and collected talent. The gallery has two stories of exhibition space where one can view the 50+ artists currently represented, including the contemporary talents of Will Klemm, Joyce Howell, and America Martin as well as the figurative work of Tracey Harris and Ian Shults.
Parking is available in the lot behind the gallery, accessed from the alley off Blanco and Harthan Streets. There you will find three dedicated spots as well as other parking options. Unrestricted street parking is available on Blanco St. and parking is allowed after 7pm on Harthan St.