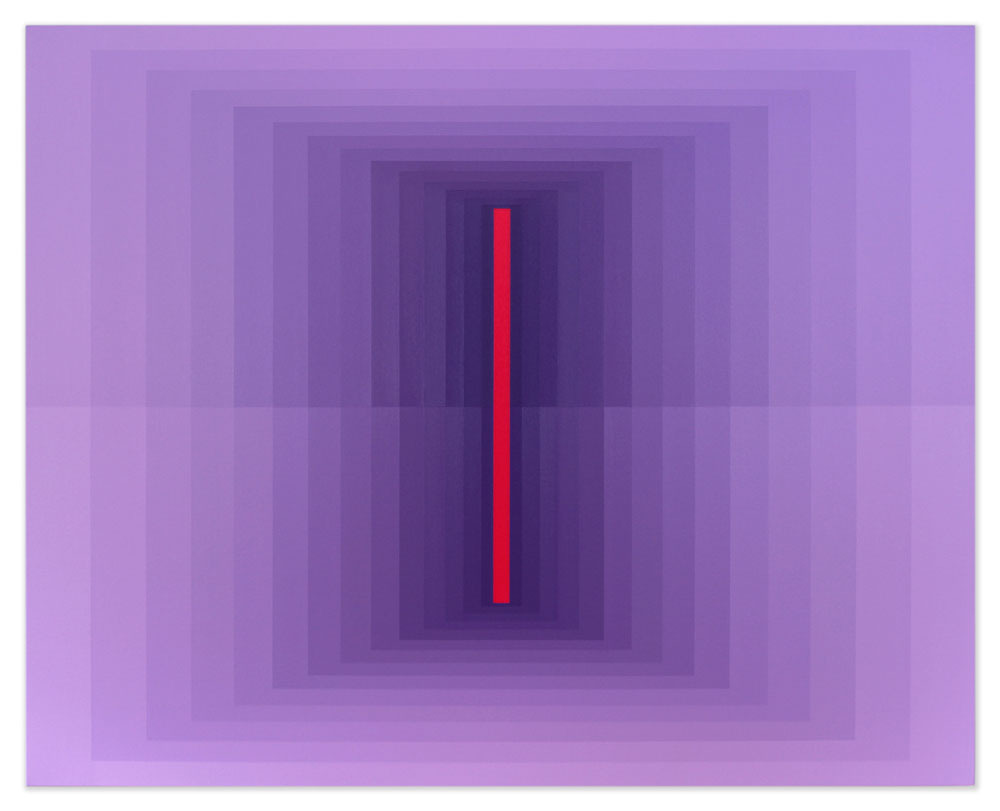 Sarah Ferguson: Cynosures .
September 7-29,

2019

A cynosure is something that aids in direction or guidance, demanding attention by its brilliance. As a body of work, CYNOSURES aims to create a vibrant, immersive and stimulating experience for the viewer. It's an invitation to explore the human condition through meditation, introspection, revelation and self-discovery. Inherent when viewing each painting is a contemplative, pulsating sense of navigating inward, an intentional effect derived from rigorous personal observation from within and of surrounding environments. Focus easily transitions toward a central beacon of light and a hypnotic shift follows. As a result, what once seemed an unyeilding sense of chaos becomes sculpted into a codified geometric harmony, ushering the viewer into a deeper, more insightful and ultimately, healed space.

Sarah Ferguson is an Austin-based artist who has experimented with the trifecta of light, color and perception for two decades. An admirer of the Light and Space art movement, Minimalism, Hard-edge painting and Geometric abstraction, she aims to evoke introspection through her paintings. Her work has been commissioned by both private collectors and corporations.
Established in 1980 and located in a 100 year old historic house in Austin's art district, the Wally Workman Gallery specializes in emerging and collected talent. The gallery has two stories of exhibition space where one can view the 50+ artists currently represented, including the contemporary talents of Will Klemm, Joyce Howell, and Mallory Page as well as the figurative work of Tracey Harris and Ian Shults.
Parking is available in the front lot as well as the lot behind the gallery, accessed from the alley off Blanco and Harthan St. Unrestricted street parking is available on Blanco St. and parking is allowed after 7pm on Harthan St.