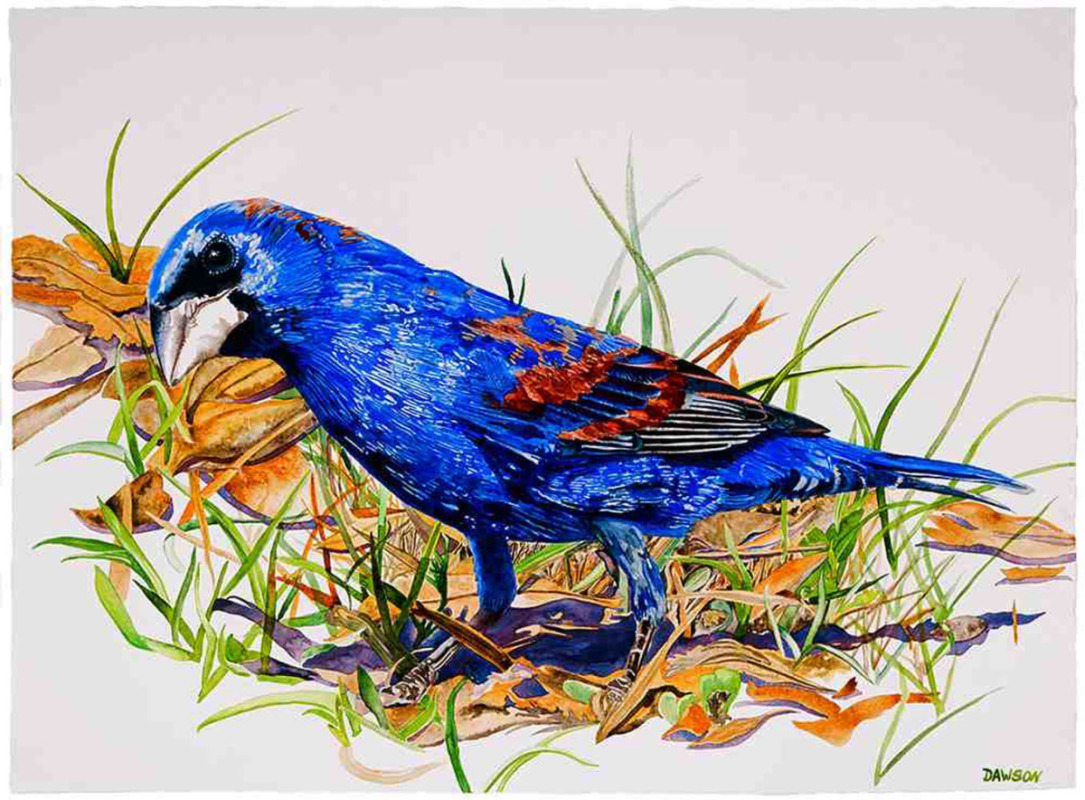 Carol Dawson Solo Show ·
September 8-29, 2018
Take a virtual tour of the show here.
Read the article in UT's Biodiversity blog about Carol's Tower Girl: Peregrine Falcon here.
Dawson aims to transform the perception of commonplace natural scenes into one of new wonder. She demonstrates how a small piece of our everyday world is filled with detail and life, turning the micro into macro. In this body of work, Dawson employs birds as well as botanicals as her subjects. She depicts the birds on a human-like scale. The effect not only captures their immediate beauty but lends each an inescapable presence. As iconic as birds have been throughout human cultural development--occupying an archetypal place in our psyches—they are often seen as small, distant creatures, forever flitting beyond reach. However, in Dawson's work, they confront the viewer eye-to-eye, ensuring a new consideration. Dawson hopes that the viewer will perhaps feel as if he or she is facing an equal--a bird meeting another bird on its own ground--and remember that the conservation of this dwindling population is of primary importance to us.
After studying English Literature and Anthropology at The University of Texas in Austin, Dawson went on to launch her writing career, live abroad in Europe and New Zealand, and formally train under the tutelage of painters Ray Vinella and John Koenig in Taos, New Mexico. She is the author of four critically acclaimed novels and two non-fiction books. In addition, she has published numerous articles in national magazines, while simultaneously exhibiting her watercolors in galleries and shows in New Mexico, Washington, and Texas. She has also served as the official Writer-in-Residence and Visiting Professor of Literature and Creative Writing at The College of Santa Fe, and continues to instruct writing workshops and classes.
Dawson has been focusing on watercolor for thirty years. Her visual work is represented in public and private collections across the country.
Established in 1980 and located in a 100 year old historic house in Austins art district, the Wally Workman Gallery specializes in emerging and collected talent. The gallery has two stories of exhibition space where one can view the 50+ artists currently represented, including the contemporary talents of Will Klemm, Joyce Howell, and Mallory Page as well as the figurative work of Tracey Harris and Ian Shults.
Parking is available in the front lot as well as the lot behind the gallery, accessed from the alley off Blanco and Harthan St. Unrestricted street parking is available on Blanco St. and parking is allowed after 7pm on Harthan St.