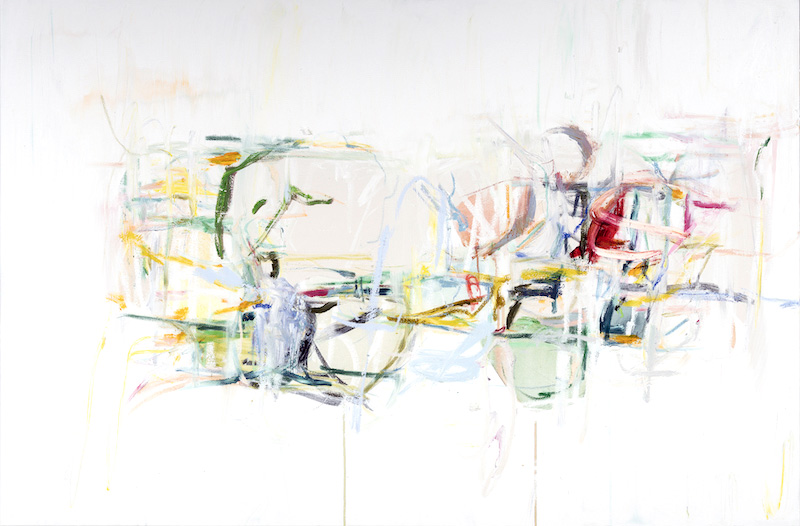 Diana Greenberg: Sunlight .
June 5-July 3,

2021

Inspired by small sculptures created from discarded painted material in the studio, Greenberg explores three-dimensional twists and turns of color on a flat plane. Her works also have a botanical inspiration. Forms from cut flowers she keeps in her studio are showcased in her paintings and the hues from these lush florals become prisms of color amidst a solemn gray. Her palette is also informed by twilight, with the recent works on paper based on paintings by Monet of dusk and dawn on the Seine. Using color, stroke and mark-making, Greenberg creates a feeling of light and hope, joy and serenity.

Greenberg works and lives in Austin, Texas.
Established in 1980 and located in a 100 year old historic house in Austin's art district, the Wally Workman Gallery specializes in emerging and collected talent. The gallery has two stories of exhibition space where one can view the 50+ artists currently represented, including the contemporary talents of Will Klemm, Joyce Howell, and America Martin as well as the figurative work of Tracey Harris and Ian Shults.
Parking is available in the lot behind the gallery, accessed from the alley off Blanco and Harthan Streets. There you will find three dedicated spots as well as other parking options. Unrestricted street parking is available on Blanco St. and parking is allowed after 7pm on Harthan St.