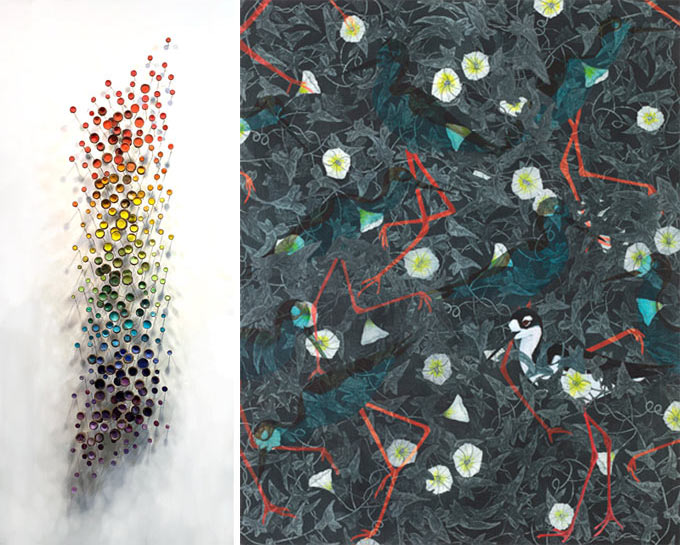 As Above, So Below .
December 5-30,

2020

Wally Workman Gallery opens a two-person show with California based Julia Lucey and Colorado based Julie Maren. Both artists take inspiration from nature. Maren works directly with natural materials like burr acorn shells and mica to create organically shaped wall installations. Lucey creates meticulous etching collages depicting the local flora and fauna. The wildlife in Lucey's pieces look directly at the viewer, in judgement but also as a plea—as human activity is threatening their existence. This year California has seen devastating wildfires, turning the sky intense and unusual colors. These changing colors are reflected in Lucey's new work. The sky has also been a focal point for Maren, a unifying source as it is shared by all humanity. Her works in the show, like Eclipse and Stardust, focus on moving from darkness to light, reflecting the changes above us but also a wish for mankind.
Established in 1980 and located in a 100 year old historic house in Austin's art district, the Wally Workman Gallery specializes in emerging and collected talent. The gallery has two stories of exhibition space where one can view the 50+ artists currently represented, including the contemporary talents of Will Klemm, Joyce Howell, and America Martin as well as the figurative work of Tracey Harris and Ian Shults.
Parking is available in the front lot as well as the lot behind the gallery, accessed from the alley off Blanco and Harthan St. Unrestricted street parking is available on Blanco St. and parking is allowed after 7pm on Harthan St.