Calendar
We invite you to attend any of the upcoming gallery shows, receptions, and talks listed. Receive email notices of gallery openings by subscribing to our announcement list.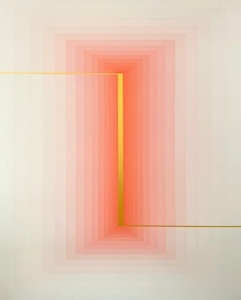 Opening reception on Saturday, October 7 from 6 to 8pm
The show will embark on an artistic journey delving into the profound connection between life, death, and the mysteries beyond. Through a harmonious interplay of finespun colors, shifting planes, and symbolic use of gold, the intention is to inspire viewers to delve into the enigmatic realms of existence and contemplate the patterns and milestones that govern our collective journey.
preview show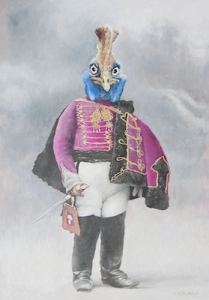 Opening reception on Saturday, November 4 from 5 to 7pm
Bucknall's absurdist surrealism muddles Old Masters with tid-bits of cartoons, films, home photography and many other fascinations to create his anthropomorphic creatures. Bucknall feels that our observation of animals, as with art, is from the outside. In them we see predator devour prey, lovers join with unembarrassed abandon; we see birth, nurturing, the feathering of nests, death—all at a remove from ourselves yet mirroring our own deepest libidinous instincts, hopes and fears. Human-animal imagery has been a constant in art, folklore, religion, daydreams, and masquerade. It takes us quickly and easily to what is deep and difficult in ourselves. Bucknall aims directly at this sweet spot, a concoction of visual imagery that sums up common experience—love, fear, gawkiness, triumphalism, self-recognition.
Born in Twickenham, England, in 1935, Bucknall's early interest in art led him at 18 to India and Santiniketan, the Ashram of Rabindranath Tagore, then to Chelsea Art School, London, the University of Texas (BFA), and the University of Washington (MFA). This rolling stone foundation settled into a fixed career as a professional artist that has continued since 1963. He has shown widely and has work in many public and notable private collections. Bucknall's images have worldwide exposure through music releases of groups like Nirvana and Jesus Lizard, and extravaganzas such as Lollapalooza. In addition, his work has been displayed in more sedate venues such as the Folger Shakespeare Library and the Houston Grand Opera. He has had gallery affiliations in New York City, Seattle, New Orleans, Taos, Austin, Dallas and Houston.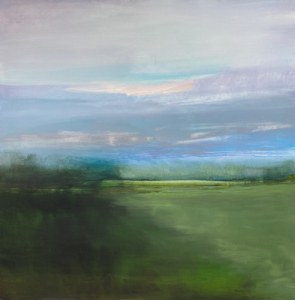 Opening reception on Saturday, December 2 from 5 to 7pm
In this show, Benitez expresses thoughts of closure as well as hope. The artist considers her landscapes metaphors—representations of mood, aided and influenced by the memory of the landscape.
"Every day I observe a discreet majesty: rolling hills, big skies, long views, and jade-green rivers. I am inspired by South Texas: the expanse of the evasive sky—the smell of the mingled grasses. I love the rough field and the cow's distant bellowing…the mist rising. Here, I've found an untamed land that is still relatively unmarred by modern footprint, and my painting tries to capture that."
Widely exhibited, Sylvia Benitez is a nationally recognized artist residing in Seguin, Texas. Benitez is the recipient of many awards from numerous art granting foundations, including the Adolph and Esther Gottlieb Foundation, the Pollock-Krasner Foundation, the National Endowment for the Arts and the Puffin Foundation.