< previous entry return to list next entry >
Anne Siems Takes on an Instagram Challenge
Like most of us sequestered at home and undergoing the near constant roller coaster of emotional highs and lows it brings with it, one would think people would be less inclined to get creative. However, that is not the case when looking at social media. People have been engaging in a brilliant challenge started by the Instagram account Between Art and Quarantine, in which they recreate notable artworks found in museum collections across the globe using only household items and themselves as the sitter. Not only does it facilitate connection between people, but also it creates a dialogue between people and the art that is similarly held captive behind institutional doors.
One of our artists, Anne Siems, has been participating in the challenge with great zeal. Crisscrossing art historical periods, Siems transforms herself and sometimes her adorable dog into figures from famous paintings. Perhaps it is the simplest things like this challenge that are most powerful, and remind us of the beauty that still exists in this world.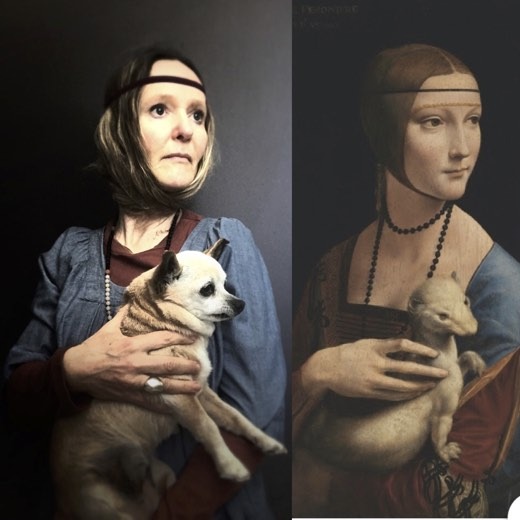 Leonardo da Vinci, Lady with an Ermine, 1489-90
Inspired by Leonardo da Vinci's Lady with an Ermine, Siems fashions her modern day clothes into a Renaissance frock while her dog embodies the white ermine which was a prized possession for Italian aristocracy. Read more about the symbolism of the ermine and the fascinating research recently discovered on this well-known work.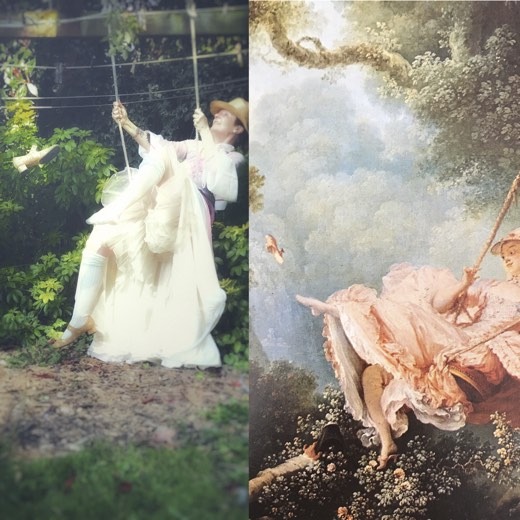 Jean-Honoré Fragonard, The Swing, 1767
Siems has taken to her own garden to reimagine one of the Rococo era's most emblematic works of art, Fragonard's The Swing. Similarly, both female figures lose a dainty shoe mid-air and coquettishly reveal their petticoats underneath their voluminous dresses. However, by today's standards we are hardly shocked by this display, but in the 18th Century this painting caused nothing short of a scandal. The painting has gone on to inspire other artists, including the British artist Yinka Shonibare CBE who has created his own rendition of the painting. Learn more about Shonibare's unique spin on the work.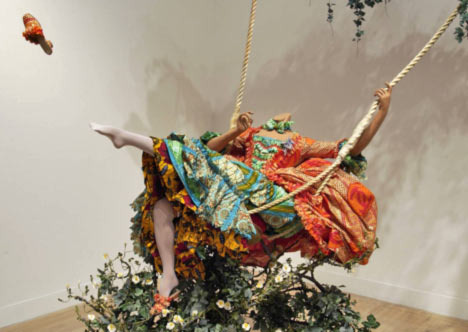 Yinka Shonibare CBE, The Swing (after Fragonard), 2001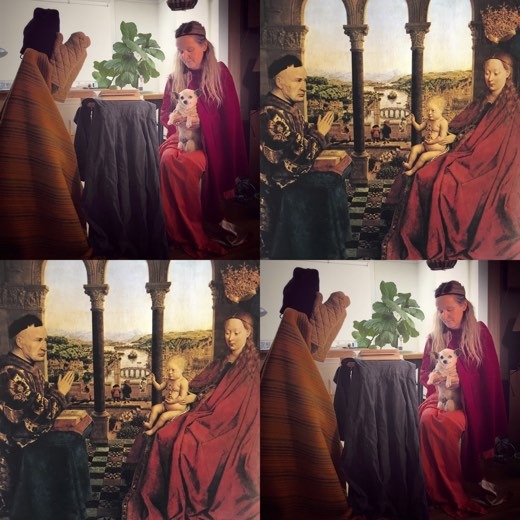 Jan van Eyck, The Virgin of Chancellor Rolin, 1430
Elevating everyday objects to religious relics, Siems has inventively recreated the painting The Virgin of Chancellor Rolin. The lush tapestries displayed in Jan van Eyck's masterpiece are achieved in Siem's reincarnation by various blankets and even oven mitts to depict the worshipping Chancellor Rolin. Siems comically casts her precious dog as the Infant Jesus while she is Mary.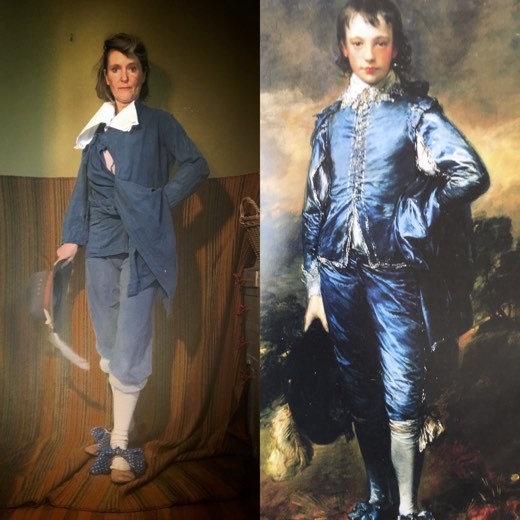 Thomas Gainsborough, The Blue Boy, 1770
Taking on Thomas Gainsborough's famed The Blue Boy, Siems has transformed herself into an 18th Century adolescent boy. Though her costume may not be made of exquisite silks and pearls, she does Gainsborough justice with emulating the young lad's haughty attitude and posture. The Blue Boy is a highlight of the Huntington Library collection in California, and recently underwent a tedious restoration which has been well documented by the museum.
posted on 4/22/2020