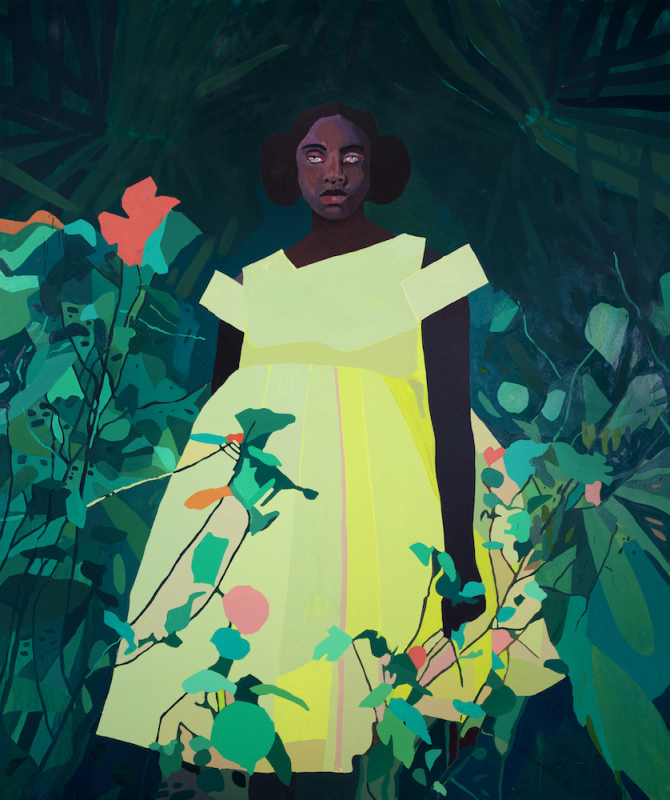 Patrick Puckett: Mythos .
June 3-July 2,

2023

Puckett's paintings are known for their bold colors and languid figures, executed with confident interaction between paint application, shape, color and texture. The works on paper emit intimacy, with more subtle features and evidence of the artist's hand through drawn elements. The works on canvas command space, strength and attention through scale, assertive brush strokes and color choice. All of the figures in Puckett's paintings are unapologetically sure of themselves, just like the technique he employs.

Patrick Puckett was born in Jackson, Mississippi in 1979 and moved to Austin, Texas in 2005. Studying under professor James Meade at the University of Southern Mississippi, he received his Bachelor's Degree in Fine Art in 2002. Puckett's paintings are visual inventions culled from a life lived in the South. When he's not painting, he works as a graphic designer, drinks beer, and listens to Elvis. In 2022, Puckett and his family moved back to Jackson, MS where he maintains a studio.
Established in 1980 and located in a 120 year old historic house, the Wally Workman Gallery specializes in emerging and collected talent. Known for encouraging their artists' professional and creative growth, the gallery has advanced local artists onto the national stage for decades. It is the combination of these long-standing relationships and the potential of new partnerships that make the gallery's program dynamic and accessible. The gallery has two stories of exhibition space where one can view the 50+ artists currently represented, including the contemporary talents of Sarah Ferguson, Joyce Howell and Will Klemm as well as the figurative work of Patrick Puckett and America Martin.
Parking is available in the lot behind the gallery, accessed from the alley off Blanco and Harthan Streets. There you will find three dedicated spots as well as other parking options. Unrestricted street parking is available on Blanco St. and parking is allowed after 7pm on Harthan St.