Honora Jacob
click on any image for details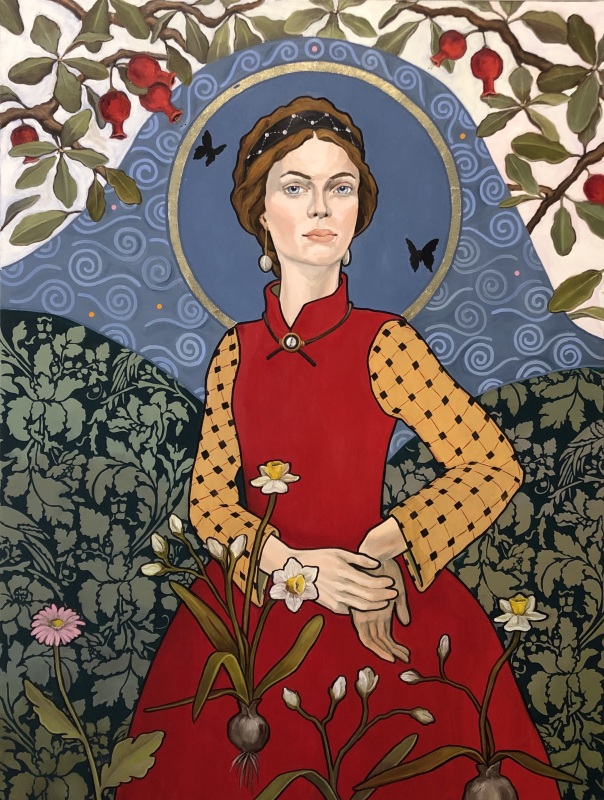 Juno Amid the Narcissus, 2021
oil and gold leaf on canvas, 48 x 36 inches, sold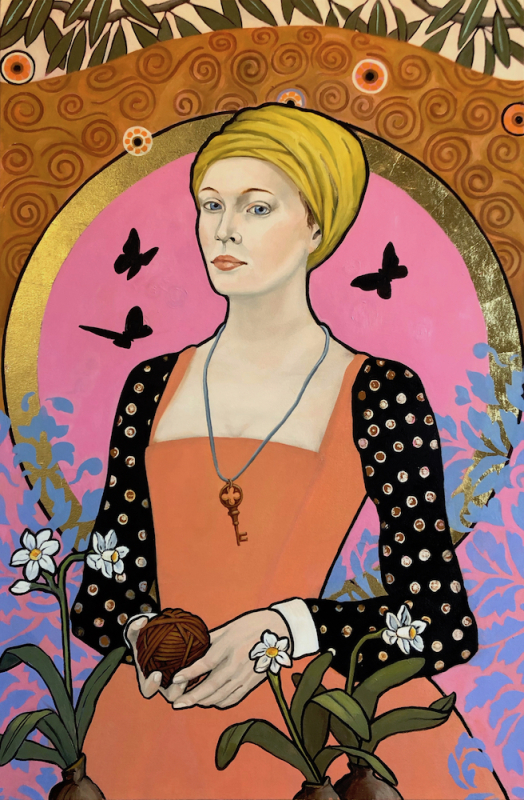 The Seeker, 2020
oil on canvas, 33 x 22 inches, sold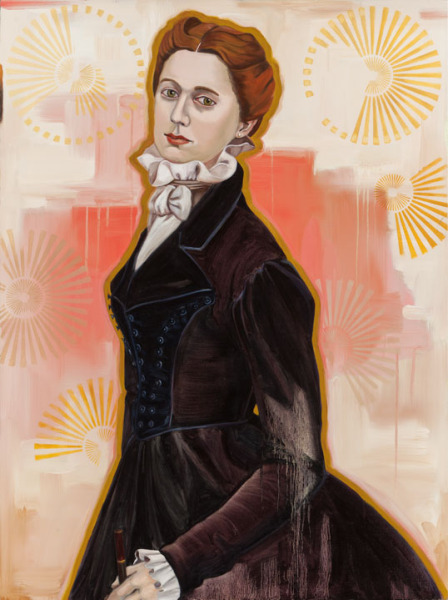 Madame President, 2015
oil on linen, 48 x 36 inches, $4800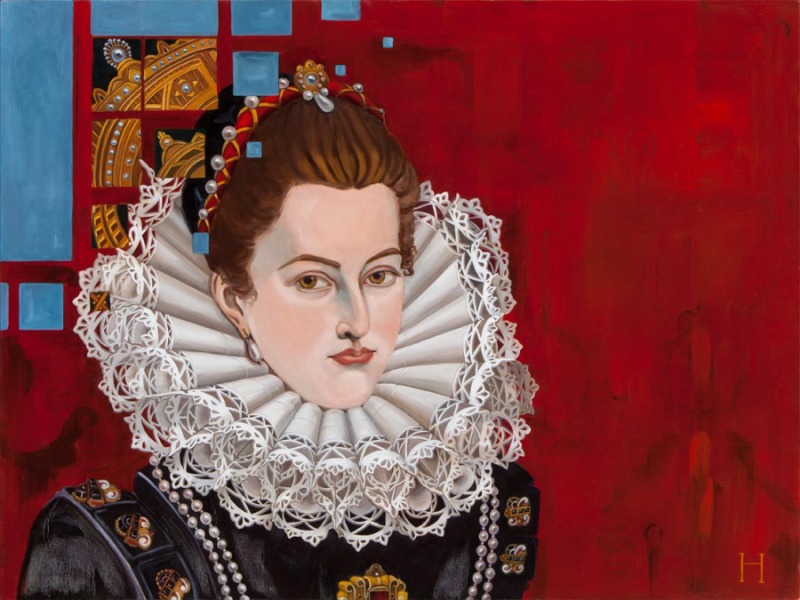 Eugenie, 2014
oil on canvas, 36 x 48 inches, $4800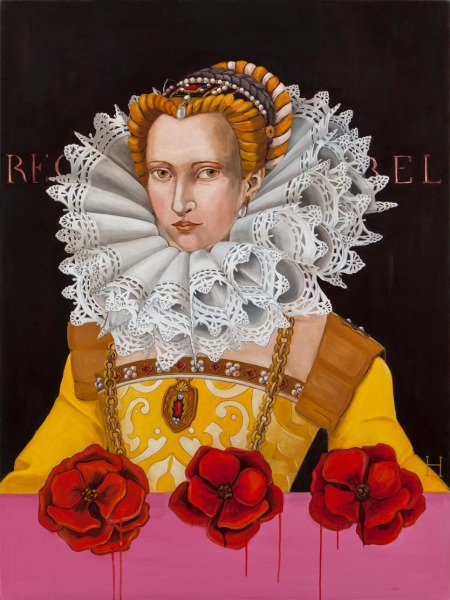 Regina Isabel, 2014
oil on canvas, 48 x 36 inches, $4800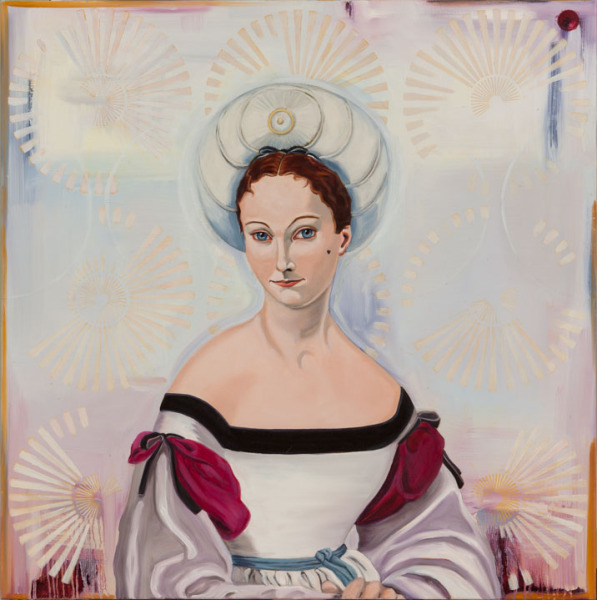 Katarina II, 2015
mixed media on canvas , 36 x 36 inches, $3600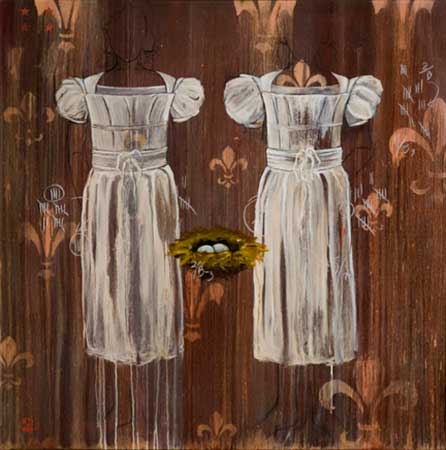 Duality
mixed media on canvas, 48 x 48, sold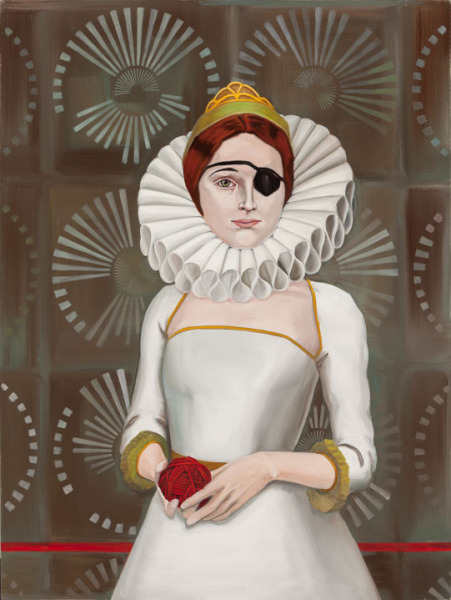 Ana de Mendoza, 2015
oil on linen, 40 x 30 inches, sold
About the artist...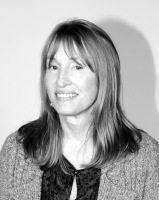 Watch a video progression of one Honora's latest paintings.
Take a virtual tour of her 2016 show with us here.
Honora Jacob's new work, Contemporary Histories, re­examines portraits of individuals throughout history to illustrate the premise that history flows into the present in an ever-changing state. And, with each new context, we view people and events through a contemporary lens specific to that moment.

Jacob appropriates and re­contextualizes original portrait elements to create re­invented portraits using technique and patterning that brings a contemporary context and perspective to these historically inspired portraits. In doing so, she imbues them with a new respect and sense of purpose. Inspired by a plethora of influences, from Holbein, Raphael and Gainsborough to Kehinde Wiley, Wayne Thibeaud, Lance Letscher and Ellen Heck, Jacob melds the traditional and the modern into a celebration of classical portraiture that revels in the sophistication of anachronism.

Of her previous work;
Read Wayne Alan Brenner's review in the October 8th issue of The Austin Chronicle here.

Honora Jacob received her first Bachelors Degree in Communication Arts from the University of Texas to pursue a career as an advertising art director. Twenty years later, she turned her attention to a career change. Returning to university, she received her second Bachelors Degree in Fine Arts, after which she attended the MFA program at the University of Kentucky.

She has exhibited her work in over 30 group and solo exhibitions since 2001. And, after a circuitous route including Kentucky, New York, and a brief stint in London,UK, Ms Jacob currently resides in Austin, Texas.


Visit artist's website - www.honora.squarespace.com