Golbanou Moghaddas
click on any image for details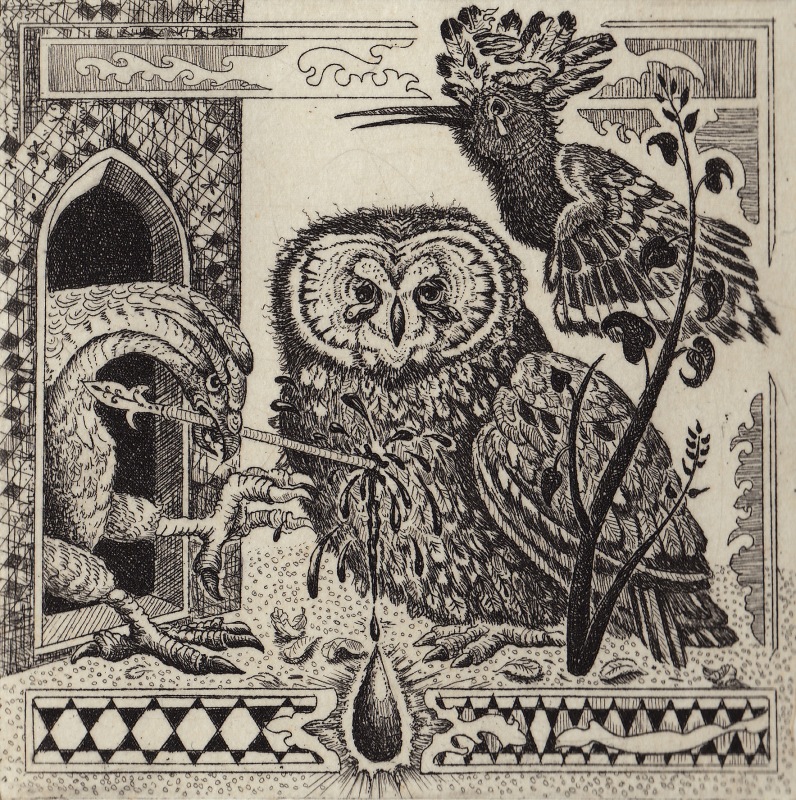 The Elimination of the Rare Owl
etching, printed on japanese gampi paper, chine colle., 3 x 3 inches, 14 x 10 inches framed, $1400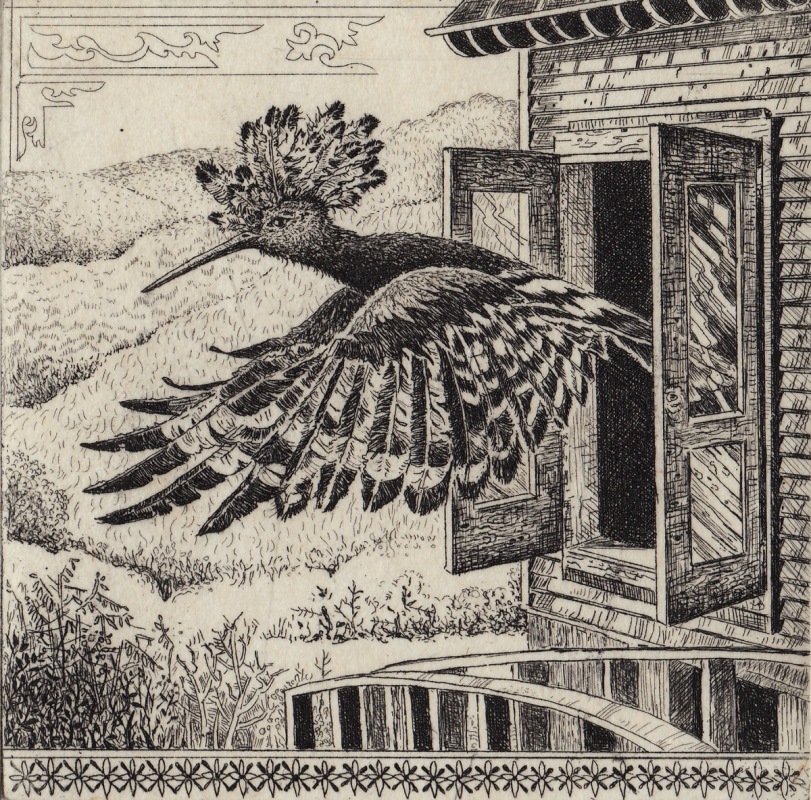 Into the Fog's Embrace
etching, printed on japanese gampi paper, chine colle., 3 x 3 inches, 14 x 10 inches framed, $1400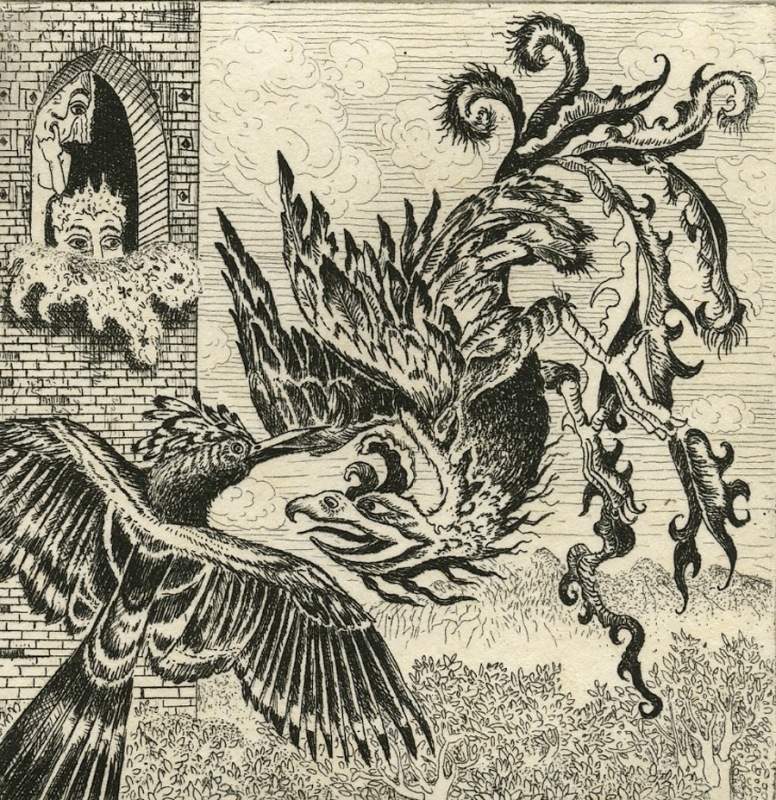 The Clash of the Divine Intelligence
etching, printed on japanese gampi paper, chine colle., 3 x 3 inches, 14 x 10 inches framed, $1400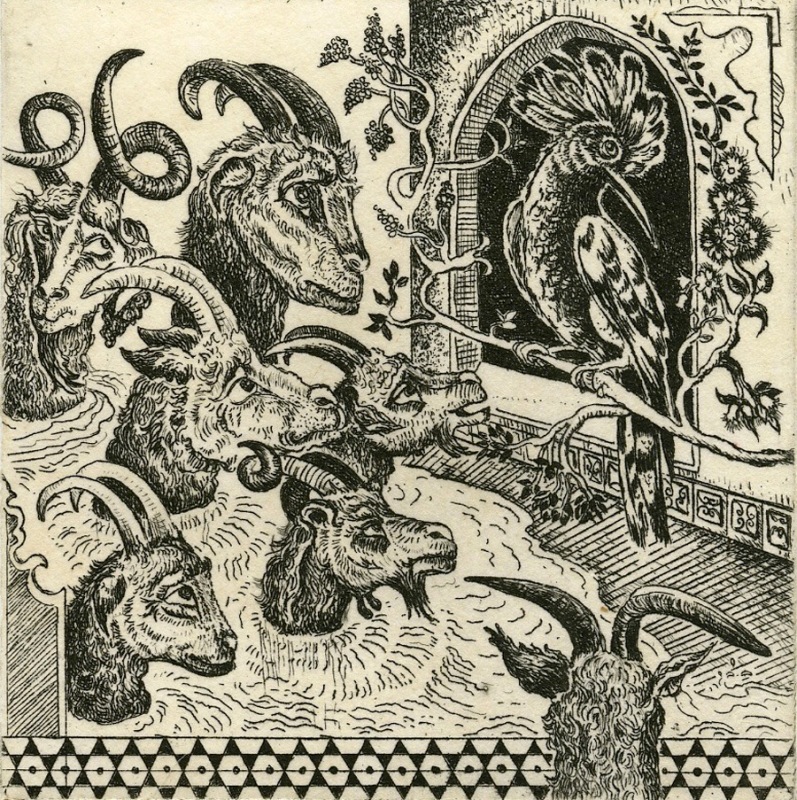 Waiting For The Next Monarch
etching, printed on japanese gampi paper, chine colle, 3 x 3 inches, 14 x 10 inches framed, $1400
About the artist...
Within my work I invite the viewer to follow an unorthodox narrative, which is influenced by the old tradition of Persian story telling. The content is enriched by metaphors of philosophy, poetry, existential beliefs and personal perceptions. I see the earthly unpleasantness and present it in a setting akin to a beautiful Persian Miniature. Rather than political views, I aim to emphasize the lyrical.
Golbanou is an Iranian Narrative Visual Artist based in San Francisco, California. She moved from Tehran to London in 2008, where she completed an MA in Communication Design at Central Saint Martins College of Art and Design. She is a winner of the Best of British Illustration award (2011), and the illustrator of The Book of Barely Imagined Beings, published by Granta Publication, UK, and Chicago Press, USA. In 2012 she was awarded an MFA Fellowship from San Francisco Art Institute, which brought her to the west coast. In the Bay Area, she has worked with Master Printer Paul Mullowney. She is a Murphy and Cadogan Contemporary Art Award winner (2013), a Manhattan Graphics Center Scholarship winner (2017), and a Kala Art Institute Fellowship Award (2017-2018). Her work was selected for IPCNY New Program: Winter 2018, and The 1st International Juried Print Biennale India. She has exhibited internationally at the Museum of London, Kensington Palace and Bankside Gallery in the UK, ORi Gallery Berlin, Empreinte Atelier de Gravure in Luxembourg, as well as SOMArts Cultural Center, Richmond Art Center, San Francisco Center for the Books, Arc Gallery, The Peninsula Museum, San Francisco Public Library Sklylight Gallery, and International Print Center New York, in the USA. She recently completed a commission for Ma Carte Des Merveilles a science and philosophy book by Les Belles Letters, a renowned publication based in Paris, France. Currently she is an Artist in Residence at Kala Art Institute in Berkeley, and a 2018 Affiliate Artist at Headlands Center for the Arts, Sausalito.
View Golbanou's work in our 2021 PrintAustin exhibition here.

Visit artist's website - golbanou-moghaddas.com